Meet Dr Josh Freedman – BSc, MSc(Chiro), DACCP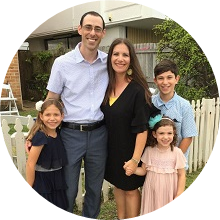 I have been at South Perth Chiropractic Centre for 14 continuous years and came to Perth with both locum and private practice experience in Sydney. I believe that health is amongst our most valuable possessions not to be taken for granted. Health is an intrinsic part of any human body with a properly functioning nervous system.
From the early age of nine I knew my path in life would lead to hands-on therapy
I was an avid massage therapist at twelve and knew my career and dedication lay in helping people. By age sixteen, I had failed to discover a profession with a caring, focused, and dedicated attitude. This was until I went to observe a chiropractor. I had never been to a chiropractor myself and the results I witnessed were truly life changing and highly motivating. From that day on, it was clear how chiropractic can have such a positive impact on one's health and lifestyle. Ten years later, I graduated from Macquarie University, Sydney with a Masters of Chiropractic Science. My Post Graduate Chiropractic degree was based on a strong undergraduate medical science degree learning the intricacies, variety, and amazement of the human body with my fellow medical doctors.
---
Chiropractic Pregnancy & Paediatrics

I have particular interest in Chiropractic Pregnancy and Paediatrics (children), especially after witnessing the process with my own three children. I regularly attend professional development conferences and seminars, which continue to improve my skills, treatment, and care for our patients. I have completed additional education within the Chiropractic Paediatrics field and hold a post graduate Advanced Diploma in Paediatric Chiropractic. This has provided significant skills in helping babies through to young adults receive effective chiropractic care. I love seeing many families and the smiles of patients both young and old once feeling refreshed, relaxed, and re-energized after an adjustment.
Away from the chiropractic adjusting table I also enjoy many sports including cricket, golf, darts, tennis, soccer and athletics.
---
I was once a chiropractic skeptic too!
Chiropractic has always surprised me by the amazing results that people see during their care. From people with lots of symptoms, to those wanting to reach peak fitness, when people respond to treatment, it is always highly rewarding. And still the most enjoyable part of my job is maintaining people's health, thereby allowing them to do the things that they love doing.
Thanks for visiting our site. I hope to meet you in person and find out how chiropractic may be able to help you.
---
How long you choose to benefit from chiropractic care is always up to you. Get started today at South Perth Chiropractic Centre.